LED neon strip lights, also known as LED neon flex or LED neon rope lights, are a modern and energy-efficient lighting solution that mimics the appearance of traditional neon lighting. Instead of using glass tubes filled with gas and neon or argon, LED neon strip lights utilize flexible plastic tubing containing LEDs (Light Emitting Diodes) to create the neon-like glow. These lights are versatile, durable, and offer a wide range of color options, making them suitable for various indoor and outdoor lighting applications.
Construction and Design:
LED neon strip light consist of a flexible, translucent PVC or silicone tubing that houses a series of small, individual LEDs. The LEDs are typically of the SMD (Surface Mount Device) type, which allows for a higher density of light sources and better illumination. The tubing is designed to diffuse the light evenly along its length, creating a smooth and consistent glow reminiscent of traditional neon lighting. Some LED neon strip lights are single-color, providing a uniform glow in a specific hue, while others are RGB (Red, Green, Blue), enabling color mixing and dynamic color-changing effects.

Applications of LED Neon Strip Lights:
1. Decorative Lighting:
LED neon strip lights are commonly used for decorative lighting in both residential and commercial settings. They can be used to highlight architectural features, such as coves, alcoves, and columns, adding an elegant and captivating touch to the space. LED neon strip lights can also be installed as under-cabinet lighting in kitchens, as wall accents, or along staircases to enhance the overall aesthetics of the environment.
2. Signage and Branding:
LED neon strip lights are an excellent alternative to traditional neon signs for businesses and storefronts. They can be used to create eye-catching, custom signage that displays the brand name, logo, or promotional messages. The bright and vibrant colors of LED neon strip lights draw attention, making them effective for advertising and branding purposes.
3. Retail Displays and Visual Merchandising:
In retail spaces, LED neon flex light are used for visual merchandising and product displays. They can be incorporated into display shelves, racks, and signage to attract customers and create an engaging shopping experience. The ability to change colors or use color effects can help create a specific ambiance that complements the products on display.
4. Hospitality and Entertainment:
LED neon strip lights are widely used in the hospitality and entertainment industries to create a lively and inviting atmosphere. They can be installed in bars, nightclubs, restaurants, and hotels to add a touch of glamour and excitement to the space. Color-changing LED neon strip lights are especially popular in these settings as they allow for dynamic lighting effects that can be synchronized with music or events.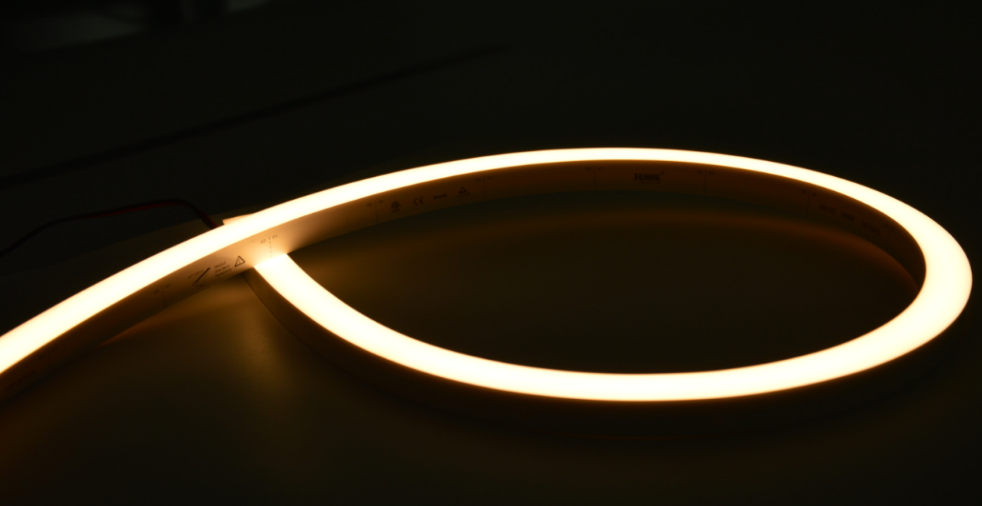 5. Outdoor Architectural Lighting:
Due to their weather-resistant properties, many LED neon strip lights are suitable for outdoor use. They can be used to illuminate building facades, bridges, monuments, and landmarks, adding a touch of elegance and creating a visual impact at night. The flexibility of LED neon strip lights allows them to be installed around curves and contours, making them ideal for various architectural features.
6. Event and Party Lighting:
LED neon strip lights are often used for event and party lighting to set the mood and create a festive atmosphere. They can be used as decorative elements for weddings, birthdays, festivals, and other celebrations, both indoors and outdoors.
Benefits of LED Neon Strip Lights:
- Energy Efficiency: LED neon rope light consume significantly less energy than traditional neon lights, making them more cost-effective and environmentally friendly.
- Long Lifespan: LEDs have a much longer lifespan than traditional neon tubes, reducing maintenance and replacement costs.
- Safety: LED neon strip lights generate less heat and do not contain fragile glass tubes, making them safer to handle and install.
- Flexibility: The flexible design of LED neon strip lights allows for easy customization and installation around curves and tight spaces.
- Low Maintenance: With their durability and reliability, LED neon strip lights require minimal maintenance, making them a hassle-free lighting solution.
Conclusion
LED neon strip lights are a modern and versatile lighting option with various applications in decorative lighting, signage, retail displays, hospitality, outdoor architectural lighting, and event lighting. Their energy efficiency, long lifespan, safety features, and flexibility make them an appealing choice for businesses and homeowners looking to enhance their spaces with vibrant and captivating lighting solutions.
If you want to know more information about LED neon strip light, please contact us. We will provide professional answers.