Switch to LED Neon Flex, one of the most versatile commercial LED lighting products on the market today. Find out why our LED neon lighting solutions offer all the advantages over outdated glass neon and other traditional lighting options.
LED neon vs. conventional lighting
Let's see how LED neon lights compare to fluorescent and glass neon lights in terms of energy consumption.
A typical LED neon light consumes 150 watts. In comparison, fluorescent lamps and neon glass consume 610 watts and 400 watts respectively. This alone proves the low power consumption of the same type of lighting effect.
If all three types of lighting were used continuously over a 12-hour period, the fluorescent models would consume approximately 7,320 watts, the neon glass 4,800 watts and the LED neon only 1,800 watts. Annual use? Approximately 2,672 kW for fluorescent lamps, 1,752 kW for neon glass, and 657 kW for LED glass.
As you know, the LED neon lighting solution is a more environmentally friendly alternative as it requires less than half the power of a glass neon luminaire and less than four times the power of a fluorescent lamp.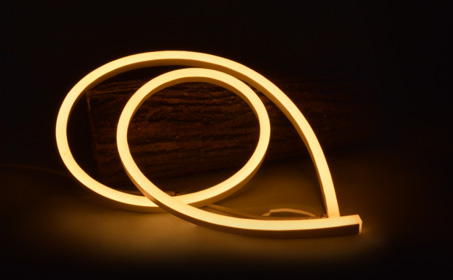 LED Neon Flex
Our commercial LED lighting products are smaller, lighter, and more energy efficient than old-fashioned neon lights.
Imagine that - a high-tech light source that reduces power consumption while providing unparalleled lighting quality. Become a more environmentally conscious company by replacing your old LED neon lights with new, greener options from our company.
Neon flex is also environmentally friendly and ROHS compliant, so it contains no lead or mercury. There is no need to worry about mercury or lead leaching out of lighting equipment that needs to be serviced with our new system.
Last but not least, the Neon flex is very easy to install. Let's not forget one of the most important advantages - LED Neon Flex products are built to last.
Our LED neon lighting solutions are flexible and durable and can be used to create any sign or display you can think of. Because the products are lightweight and simple to install, sophisticated designs can be created that will attract the attention of potential customers. Get the Neon Flex advantage with neon installation.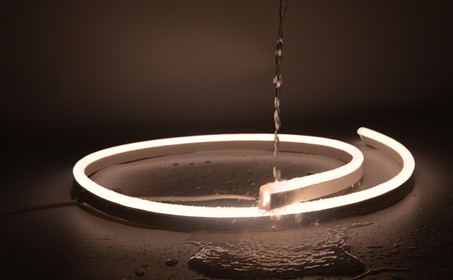 LED Neon Flex
How LED neon lights can light up your business?
Focus attention on a dark area, update a neon sign, or add border lighting to a building or structure with a neon lighting solution.
Accent lighting can effectively beautify an area and make a display stand out. Whether subtle or bright, the right accent lighting can bring an otherwise boring display to life. Neon can be used almost anywhere you can imagine.
Green LED Lighting Solutions is proud to offer LED Neon Flex in both commercials (bright) and decorative (LED neon rope) grades. both options are perfect for neon installations that require thin or variable length. the LED Neon Flex can be cut at any cut mark and used individually for maximum creativity and customization. 24v and 120v are available. Both 24v and 120v are available.
Applications include
Bezel lighting
Bay/accent lighting
Signage
Architectural and interior contours
Upgrades and renewals
Don't wait, take advantage of the benefits that LED neon lighting solutions offer you and upgrade now.